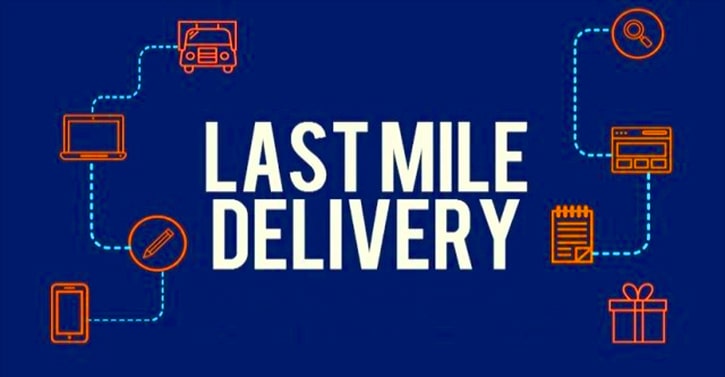 Last mile logistics refers to the final step of the delivery process from a distribution center or facility to the end-user; it is defined as the movement of goods from a transportation hub to the final delivery destination. The final delivery destination most a times is a personal residence but could be few meters from the designated delivery spot. But the focus of last mile logistics is to deliver items to the end user as fast as possible.
Last mile logistics is one of the keys to customer satisfaction and also one of the most time consuming and expensive part of the whole shipping process. Therefore, if it is the executed the proper way, it can save a great amount of time and money thereby making a logistics business both efficient and profitable.
Over the last 20 years, those in the retail business have become extremely smart about their last mile logistics offerings because they found out it's the key to getting ahead of their competitors.
Amazon presents a perfect example of this smartness. In the year 2018, their market share in the US retail market was 48%, and this was made possible due to Amazon Prime's same day and next day delivery promises and fulfillment. Many other giants in the ecommerce industry are also trying to emulate Amazon's success by improving their last mile delivery by rendering faster deliveries.
Last mile logistics like every other logistics service has its challenges;
1. Unresponsive customer:
This might seem not much of issue; however, it's a serious challenge that all last mile logistics companies face. Many a times it happens that the customer is not present at the delivery location or he is out of reach. These undesirable situation causes waste of time and money. Moreover, it also exposes the package to the risks of damage and theft.
2. Having sufficient supply chain data:
By having data on the delivery flow, as well as customer data, businesses will gain insights that are crucial for understanding and optimizing delivery operations. These improvements will then enable businesses to offer the speed, flexibility and convenience that customers expect.
3. Complexity of delivered items:
Large products may require assembly and skilled unpacking and reassembling, upon delivery, therefore shippers must ensure that final product is an accurate reflection of what was sold, even if it's an added service, but the customer must know in advance in case of extra costs.
4. Route Optimization:
If you do not have a driver or delivery man that knows his route very well, then you are going expend more time and spend more money unnecessary thereby impacting negatively on your operational costs. Knowing better routes is very key if a last mile delivery business must be reliable, competitive and profitable.
To make last delivery logistics better, do the following;
1. Have a central source of data or information:
No matter how many channels your delivery information come from, you must ensure that this data is centralized. Only by being able to access your data from one centralized system can you business truly understand what's happening in your delivery space, and make the adjustments needed to provide a better last mile experience.
2. Think automation:
Automation is a must if you must manage last mile logistics business in a way that provides ideal delivery experiences. Today, businesses of any size, in any industry, have access to technologies that can enable them to cost-effectively provide faster, more efficient deliveries using their existing resources. You can create an app for your business and install tracking software on your delivery assets. All these add to the efficiency of your business.
3. Train your drivers:
This is very important. Your drivers must know the applicable delivery laws in your city of operation and must also have all the permits needed to run smoothly without interference from authorities.
4. Maintain your fleets:
This is self explanatory; if you don't maintain your fleet, they won't function optimally thereby causing delivery delays to your customer.
If you need more insight on last mile delivery and how you can make the best of them, write to us via info@edasglobalsupplychain.com; we'll be glad to hear from you.