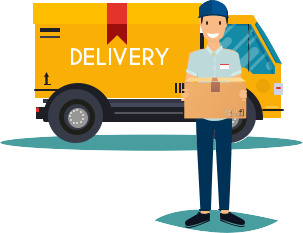 E-commerce is becoming more and more demanding in terms of innovative business models and consumer expectations. Before the rising of e-commerce, original logistics was as simple as moving goods from manufacturing facilities to consumption hubs through the means of a straightforward routing system. However, Logistics services for e-commerce, however, must adopt a combination of multiple routing mechanisms based on the availability of merchandise and the delivery destinations.
As e-commerce markets in metropolitan cities and suburban areas continue to grow, the constant need for logistics markets to scale up their operations remains paramount. The logistics sector is experiencing a change as consumer habits continue to evolve, in part because of the increasing expansion of online shopping.
This shift from shopping in physical retail locations to shopping at online-only retailers is causing a transformation of the logistics sector, in which warehouses are gaining in importance and having to adapt and evolve more rapidly than ever before.
The supply chain or logistics of any online marketplace can make or mar such a platform especially if they are always experiencing logistics issues which might lead to late order delivery. The result of this is that the customer will not be happy. Today, a small entrepreneur with a good idea for a business does not have to stock up his warehouse without knowing the market where he wants to try out his luck. However, the scale and development of his business certainly affects and will affect the logistics of the supplier or manufacturer.
Therefore, it can be concluded that the role of logistics and its great importance in e-commerce can currently be argued in many ways. Global e-sales are growing at a very high pace, currently constituting 4 percent of total global sales. Although the infrastructure for ecommerce in developing countries is less advanced in comparison to developed countries, it is precisely these countries which, in perspective, can possibly have the biggest sales growth. As a result, over the next five or more years, the face of e-commerce will largely change and in turn change the perception of logistics.
Those who must stay in the game of ecommerce and logistics should;
1. Improve on reverse logistics offerings:
Reverse logistics is simply the process of moving goods back to its origin; the goods move from the end user back to the seller or manufacturer. It can include returns from e-commerce and retail, as well as components for refurbishing and remanufacturing. The products may be resold or disposed off permanently.
2. Increase reachout or fulfillment centre: Reach out centres are what we can also call warehouses. Amazon understands the criticality of these centres in relation to fast and reliable ecommerce logistics and keeps investing heavily in them.
Those who want to be ready for the ecommerce explosion must invest in reachout centres or warehouses to enable more accessibility to diverse customers in different locations.
3. Develop a competitive pricing model:
Due to the high competition in the logistics industry, it is of paramount importance that logistics service providers develop a competitive pricing model that meets the industries they serve, and also the category of goods being moved; pricing models that are sophisticated enough to aptly determine the variables, in turn enabling them to price their services fairly.
4. Invest in technological and infrastructural improvements:
Industry experts agree that as the modern supply chain adjusts to the rapid growth of ecommerce, the industry will likely be both less expensive and more efficient than in years past. A 2017 "State of Logistics Report" conducted by the Council of Supply Chain Management Professionals (CSCMP) found that overall spending on logistics dropped, despite a rise in energy prices. The study found that the price of energy was no longer the "primary factor" in determining logistics costs; rather, consumers' demand for ecommerce deliveries is now the main determinant for the cost of logistics. In addition, the study found that efficiencies in the industry—driven largely by advances in technology—are also helping to control costs within the logistics sector. In a wide array of areas—from warehousing and parcel delivery to motor freight—technology is transforming the way the modern supply chain responds to the consumers' demand and the growth of ecommerce.
According to the CSCMP survey, "technologies ranging from big data and predictive analytics to artificial intelligence and robotics" are transforming the entire modern supply chain structure. Not surprisingly, the study also predicts that businesses making smart technological choices today are most likely to be the ones prospering in the years to come.
No matter how technology has changed the ecommerce supply chain to this point, the rate of change isn't likely to slow down any time soon.
If you require more information on this, please write us via info@edasglobalsupplychain.com.