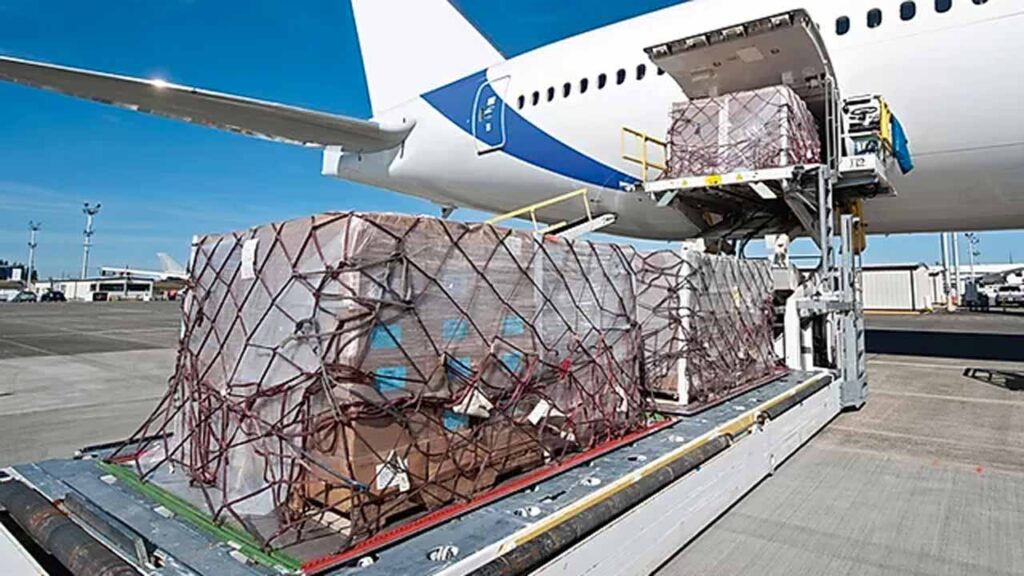 In simplest terms, Air Cargo transportation is the preparation and movement of  shipments for delivery aboard cargo jets or cargo planes. It is the carriage or the transportation of goods through an air carrier. Air transport services are the most valuable and fastest when it comes to moving express shipments around the globe and it consists of air mail, air freight and air express.
Airfreight involves the shipment of packages and goods via an air carrier. An air carrier could be commercial or charter. Transportation via air carriers allows shipments an easier gateway to anywhere that airlines fly and land.
The process of airfreight is used in conjunction with other shipping methods such as rail, marine and has since become widely used as one of the most efficient delivery options in exporting and importing in the 21st century. The airfreight industry has grown steadily over the past decades and considered an efficient and quicker way of transporting goods.
The process of air cargo requires many vital steps taken by the freight forwarder and the air carrier. Here is a guideline on how the process of air cargo is carried out on a daily basis.
The following are critical steps to successful flight transportation;
1. Analyzing shipment details:
This begins with knowing the weight, dimension, packaging of the item. All these information will reflect on the documents for the shipment, and this will also be critical deciding your charges.
2. Documents preparation:
Customs play critical roles in documents inspection at the port. Once approved, the documents travel with your shipment. It details, according to international agreements, any reductions in duties or tariffs. Handling agents are the one who "physically" take good care of your cargo during its stay in the airport, to and from the aircraft.
This includes tasks such as: Controlling the weight and balance of cargo on the aircraft by checking the load sheet to ensure flight safety, Preparing a cargo manifest for your cargo on board for customs declaration, Notifying the captain of aircraft on potential risks of your cargo and right conditioning required for the cargo on-board, Planning and controlling booking, slot-time.
Documents must be labeled with consignee address, piece count and AWB number (preferably bar coded) which is Packaged appropriately for travel by air.
Paperwork (AWB, declarations, certificates etc.) presented at the same time as the cargo is presented. The Air Waybill (AWB) is a document required to ship cargo internationally and is completed on behalf of the shipper usually by a Freight Forwarder, or an agent appointed by us for the purposes of, documentary evidence of the Contract of Carriage and proof of receipt of the goods for shipment. The cargo is then cleared through customs. Soon after, the receiving forwarding agent notifies the handling agent that your cargo and documents is now ready to be released.
3. Airline booking:
This is process of reserving space for your item on a cargo airline. After documents are confirmed, proceed to make bookings and get a code/number for your item. Once code is confirmed, and it gets to time for loading, warehouse workers load the items into oddly shaped or sometimes under the belly of the aircraft. Then the plane takes off.
4. Cargo arrival:
Once cargo arrives, they are unloaded and transported to the local terminal warehouse where they are split for easy identification by the numerous owners. Then the customs does their checks, using the accompanying documents as guidelines; these documents are usually Master Airway Bill (MAWB), Packing list, Invoice(optional). With these documents, they are able to ascertain the duties applicable and issue same to the cargo owners.
5. Destination delivery:
After tariffs and taxes are paid, goods are released to the owners who eventually transport them to their customers or to their own warehouses.
While this may appear so simple on appear, it can be hectic especially if there is too much traffic or if you are not well versed in the procedures. But the good news is that you do not need to worry because Edas Global Supply Chain Limited takes off that aspect in order to enable you focus on your core business. We offer door to door airfreight services globally. This means that no matter where your goods is located, we can go there and pick them up, and deliver to your doorstep.
Start the process now.
Send us an email via info@edasglobalsupplychain.com or call +2347089921886