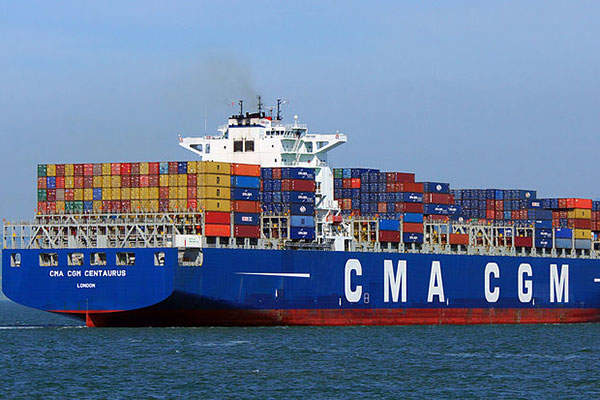 Logistics entails a lot of shipping items from one part of the globe to the other. Here are 10 massive players in the industry in no particular order;
1. Hapag – Lloyd
Hapag-Lloyd AG is a German international shipping and container transportation company. It is currently the world's fifth largest container carrier in terms of vessel capacity.
The company was formed in September 1, 1970 by the merger of two German transportation/maritime companies, Hamburg-American Line (HAPAG), which dated from 1847, and Norddeutscher Lloyd (NDL) or North German Lloyd (NGL), which was formed in 1857.
Since its formation, Hapag-Lloyd has been sold to many organizations and has also undergone numerous mergers with other companies. For instance, Hapag-Lloyd was completely acquired by, and became a subsidiary of TUI AG (Hanover) in 1998. This major event was followed by TUI selling a majority stake of Hapag-Lloyd to various private investors in Hamburg in 2009 and again in 2012. Other important events in the company's history include Hapag-Lloyd's acquisition of CP Ships in 2005 as well as Hapag-Lloyd's merger with the container business of CSAV in 2014, and United Arab Shipping Company in 2017.
Currently, the company's shares are owned by several public and private investors, with the largest stake controlled by Kühne Holding AG, followed by CSAV.
2. APM -MAERSK
A.P. Møller – Mærsk A/S also known as simply Maersk, is a Danish integrated shipping company, active in ocean and inland freight transportation and associated services, such as supply chain management and port operation. Maersk has been the largest container ship and supply vessel operator in the world since 1996. The company is based in Copenhagen, Denmark, with subsidiaries and offices across 130 countries and around 80,220 employees in 2018.
It is a publicly-traded family business, as the company is controlled by the namesake Møller family through holding companies. In September 2016, Maersk Group announced that it was splitting into two separate divisions: Transport & Logistics, and Energy.[6] The company's 2018 annual revenue was US$39 billion (2019). Dampskibsselskabet Svendborg (Danish for '"Svendborg Steamship Company"') was founded in Svendborg in April 1904 by captain Peter Mærsk Møller (1836–1927) and his son Arnold Peter (A. P.) Møller (1876–1965). A. P. Møller had four children, all by his first wife Chastine Estelle Roberta Mc-Kinney. Their second child was (Arnold) Mærsk Mc-Kinney Møller (1913–2012), who became a partner in 1939 and head of the firm upon his father's death. In 1993, he was succeeded as CEO by Jess Søderberg.
He continued as chairman until December 2003, at which point he was 90 years of age and Michael Pram Rasmussen took over. Mærsk Mc-Kinney Møller was until his death one of the "managing owners" of the company and was chairman of Odense Steel Shipyard until 2 May 2006.
In 2017, the company was one of the main victims of the NotPetya ransom malware attack, which severely disrupted its operation for several months.
3. Mediterranean Shipping company :
MSC was founded in Naples in 1970 as a private company by seafaring captain Gianluigi Aponte when he bought his first ship, Patricia, followed by Rafaela, with which Aponte began a shipping line operating between the Mediterranean and Somalia. The line subsequently expanded through the purchase of second-hand cargo ships. By 1977, the company operated services to northern Europe, Africa and the Indian Ocean. The expansion continued through the 1980s; by the end of the decade, MSC operated ships to North America and Australia.
In 1989, MSC purchased the cruise ship operator Lauro Lines, renamed to Mediterranean Shipping Cruises (MSC Cruises) in 1995, and subsequently increased the cruising business.
In 1994, the line ordered its first newly constructed ships, which were delivered beginning in 1996 with MSC Alexa. They were built by Italian shipbuilder, Fincantieri.
As of October 2014, Diego Aponte (son of MSC founder Gianluigi Aponte) was named president and chief executive of MSC, taking over from his father who was named group executive chairman. Gianluigi Aponte would continue to oversee all group related activities as well as supporting Diego in shaping the future of MSC. Mediterranean Shipping Company S.A. (MSC) is a Swiss-Italian international shipping line. The company operates in all major ports of the world. It is the world's second-largest shipping line in terms of container vessel capacity.
As of the end of December 2014, MSC was operating 471 container vessels with an intake capacity of 2,435,000 twenty-foot equivalent units (TEU). It has a division called MSC Cruises that focuses on holiday cruises.
4. One Ocean Network Express :
ONE was founded in 2016 as a joint venture between Nippon Yusen Kaisha (NYK), Mitsui O.S.K. Lines (MOL) and K Line.
It was formed as part of a larger process of consolidation that was occurring in the container shipping industry at that time, affected by poor profits and surplus capacity. It merged the container shipping divisions of the three companies, forming the sixth-largest container shipping company in the world at that time. NYK controls a 38% stake of the joint venture, while MOL and K Line own 31% each.
The company began trading in April 2018, with a holding company office in Tokyo, global headquarters in Singapore and regional headquarters in London (Canary Wharf), Richmond, Hong Kong, and Sao Paulo, and further local offices in 90 countries, with corporate and sales activities already started in October 2017.
In August 2018, ONE ordered more than 14,000 refrigerated containers. In December 2018, ONE and PSA International signed an agreement to form a joint venture at Pasir Panjang Terminal in Singapore to conduct container operations in the terminal, starting in the first half of 2019.
ONE decided to paint all its new launched ships and container equipment in a recognisable and eye-catching magenta color. The magenta shade idea was inspired by the cherry blossoms common in Japan, where the three parent companies are located.
5. CMA CGM:
The history of CMA CGM can be traced back to the middle of the 19th century, when two major French shipping lines were created, respectively Messageries Maritimes (MM) in 1851 and Compagnie Générale Maritime (CGM) in 1855, soon renamed Compagnie Générale Transatlantique in 1861. Both companies were created partly with the backing of the French State, through the award of mail contracts to various destinations, French colonies and overseas territories as well as foreign countries. After the two World Wars, the two companies became "State owned corporations of the competitive sector" ("Entreprise publique du secteur concurrentiel "), i.e. companies that, while owned by the State, were run as private for-profit businesses operating in competitive markets. The French government, under President Valéry Giscard d'Estaing and Prime Minister Jacques Chirac, progressively merged the two companies between 1974 and 1977 to form Compagnie Générale Maritime, which was still owned by the French State and still run as a competitive business, although sometimes subject to political pressure, for instance on the selection of shipyards to build new ships.
6. Evergreen Line
is a Taiwanese container transportation and shipping company headquartered in Luzhu District, Taoyuan City, Taiwan. Its principal trading routes are the Far East to North America, Central America and the Caribbean; the Far east to northern Europe and the east Mediterranean; Europe to the east coast of North America; the Far East to Australia, Mauritius, South Africa and South America; and an intra Asia service linking ports in Asia to the Middle East, Persian Gulf and the Red Sea. With over 150 container ships it is part of the Evergreen Group conglomerate of transportation firms and associated companies.
7. COSCO – China Ocean Shipping Company
COSCO is a Chinese multinational transportation service and real estate conglomerate headquartered in Shanghai. The group's core businesses are marine transportation and stevedoring. COSCO SHIPPING was established in January 2016 by the merger of COSCO and China Shipping. As of March 2020, COSCO SHIPPING's fleet was among the largest in the world – 1310 vessels with a capacity of 105.92 million DWT.
8. Yang Ming Marine Transport Corporation
The company was founded in 1972 as a shipping line, but has historical links through its merger with the China Merchants Steam Navigation Company (1872 – 1995), which dates back to the Qing Dynasty.
Yang Ming currently operates 101 container ships up to 14,000 twenty-foot equivalent units (TEU) and 17 bulk carriers.
As of mid-2019, Yang Ming operated a fleet of over 4.2-million-D.W.T / operating capacity 643 thousand TEU, of which container ships are the main service force.
The Yang Ming Group includes a logistics unit (Yes Logistics Corp. and Jing Ming Transport Co.), container terminals in Taiwan, Belgium, Netherlands and the USA, as well as stevedoring services (Port of Kaohsiung, Taiwan). Yang Ming's service scope covers over 70 nations with more than 170 service points.
9. Pacific International Lines (PIL)
Pacific International Lines (PIL) is a shipping company incorporated in Singapore on 16 March 1967. The founder of PIL is the Chinese entrepreneur Chang Yun Chung, who is also the world's oldest billionaire. The company originally operated only two ships, but constantly expanded to finally celebrate its first 50 years of history in 2017, and ranking within the first 10 largest container shipping lines.
PIL has a fleet of around 95 vessels(Container, Dry Bulk, Multi-purpose vessels) with a capacity of more than 400,000 teus. PIL has also taken delivery of 12 x 11,800 teu vessels. The company employs over 18,000 staff globally, regularly serving about 500 ports in nearly 100 countries worldwide.
As forerunner in IT improvements, PIL has implemented a blockchain supply platform to share established data with DP World – Port of Singapore via IBM systems. In 2017 PIL and COSCO have entered into a mutual chartering agreement, to supply and exchange vessels during shipping demand peak times.
In March 2015, PIL partially took over the ownership of Singapore's Mariana Express Lines (MELL). According to the deal, PIL has assumed the majority shareholding. Since then, MELL has continued to operate under its own brand and pre-existing business, as agreed internally at the time of the purchase.
10. HMM (company)
HMM (Hangul: 에이치엠엠) is the world's 8th largest container line in terms of vessel capacity. HMM moves the largest portion of South Korea's exports, becoming the number one Korean national containers carrier, especially since Hanjin Shipping was declared bankrupt and ordered to be liquidated. As of 2020, HMM has built and launched the world's two largest container ships in terms of TEU capacity, the HMM Algeciras with a maximum TEU capacity of 23,964, and the HMM Copenhagen with a maximum capacity of 23,820 TEU.
HMM has formed a global business network with four international headquarters, 27 subsidiaries, 76 branches, five overseas offices and 10 liaison offices. It is highly regarded as one of the world's top integrated-logistics companies with its targeted market prospects, efficient organization, top personnel, and advanced internet systems.