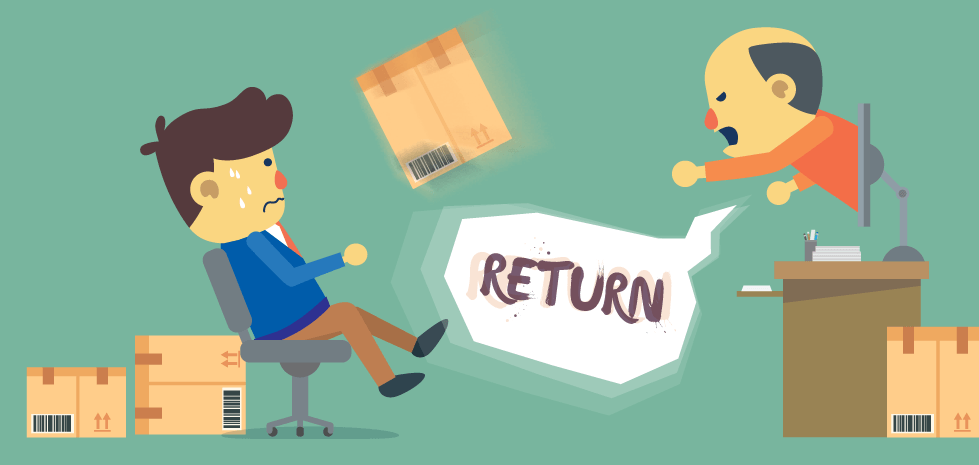 Product returns can be a source of major headache for online businesses. Whether you're just starting out or been in business for years, having product returns mean time and energy spent processing additional (unexpected) packages, issuing refunds and trying to keep the process positive for the customer so that they don't run off to one of your competitors as soon as they get their refund.
Ecommerce returns are on the rise and with the holidays approaching, the number of returns will swell even more. If you're a small retailer, you know how quickly too many ecommerce returns can eat into your profit margins. Try these tips to reduce the number of returns from online shoppers in a way that benefits both your bank account and your brand image. Making returns easy benefits your business as well as your customers, And returns don't always mean lost sales: many shoppers end up exchanging or replacing the online purchases they return. However, making online returns difficult or expensive can hurt your customer loyalty.
Here are ways that can help you reduce and manage returns effectively;
1. Write detailed product description:
Aside being great for Search Engine Optimization, detailed product description help shoppers decide whether or not your product is right for them. Descriptions need to be clear on the particulars of a product, therefore it is imperative to ensure that the person writing your descriptions knows your products well
Get genuine feedbacks from people who have used the product well and can highlight its value which will be put in writing.
You should talk about the product in an appealing way, however don't exaggerate as this will only come back to bite you.
Specification information is a must for technical products, therefore the information must be accurate and precise without bogus languages.
2. Have a good return policy:
A return policy is good business for brick-and-mortar stores, and it's essential to doing business online. Unlike visitors to brick-and-mortar stores, online consumers don't get to see and hold the physical product before they buy it. So e-commerce sites must ensure that their return policies are fair and appealing to their customers.
A concise and clear return policy gives consumers a feeling of security; that what they are buying is guaranteed to be what it is represented to be. If a retailer doesn't give this guarantee, then consumers often become suspicious and avoid buying the product. A definitive retail return policy can help increase sales because an overwhelming percentage of the consumer population looks for it. Consumers still see it as a guarantee that reflects the trust retailers have in the products they sell.
Be specific on the return timeline. This will enable the customer to decide and act fast before the return window expires.
3. Prioritize quality:
No business wants customers to be returning products because of quality issues. Such a business will not last because at a point, the customer will cease to come around. Bad products hurts the brand image too; this means it will cost additional money to repair image dents because of inferior products.
4. Incorporate high quality visuals/videos into product displays:
Videos and clear images are very effective for remote selling. They are a great way of bringing products to life and can be especially effective when used for the two highest returned categories – clothing and home electronics. With clothing, models can show off the movement of the garment, giving shoppers a better idea of the fit and flow.
Product photos create a picture in the mind of consumers about how the product will look when they receive it physically. It is the primary reason why customers opt for the purchase in the first place. Low pixel photographs can restrict a prospect from buying a product. Also, if there is a colour difference between the products listed on the website and when a customer receives it, the possibility of customer returns increases. So make sure to use high-resolution photos to eliminate colour differences, and most importantly, do not over-edit your product pictures.
5. Collect feedbacks and reviews on products fit:
You should develop a core process to encourage customers to leave a review of your product or service. It encourages your customers to review your business and products; I'm sure it comes as no surprise that online reviews impact the buying decisions of over 93% of customers, meaning reviews will both increase your sales and reduce your eCommerce returns. This will also help you identify any issues or problems people are having with the product and identify areas of misunderstanding so you can adjust your marketing, listings or emails as a result.
Returns play a big part in the "big picture" of your business. Returns management impacts customer experience, supply chain management, inventory, and customer service.
Your customer service and customer management teams–or maybe just you–need to understand the return process too. They need visibility into where returns are, so when a customer calls, looking for their refund, you can give them a good answer: "Your return shipped, but we haven't received it yet."
If you need assistance with drafting ecommerce deliveries, international freighting and clearing or drafting return policies, write us via info@edasglobalsupplychain.com