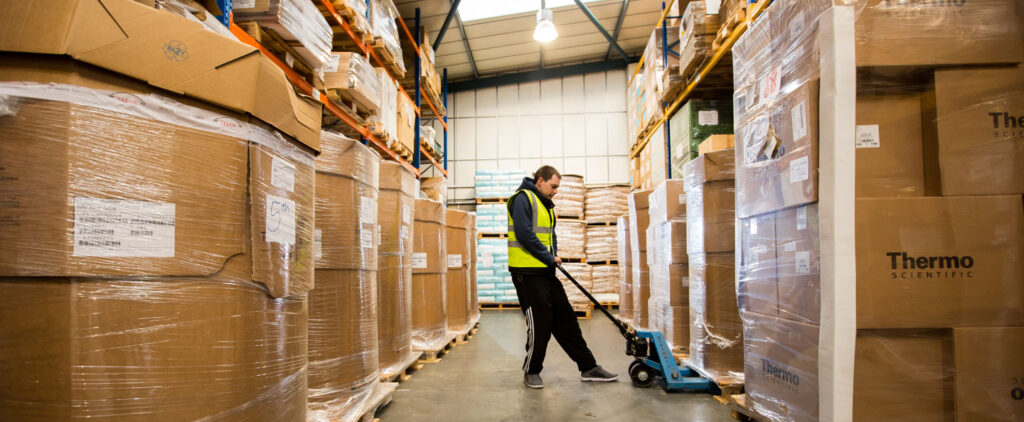 Manufacturing companies spend a great deal of time looking for ways to beat their competition in new and innovative ways, whether it is through new manufacturing processes, better products or improved supply chain management. Manufacturing industry supply chain management can be difficult as you try to keep costs low and deliver goods and services to the customer in a timely manner. Fortunately, third-party logistics (3PL) providers offer many services that will improve a manufacturers' supply chain.. Smart manufacturing companies look for ways to bring out the best in their operations. Below are key ways to achieve that objective;
1. Outsource your logistics:
Partnering with a 3PL to take care of your supply chain needs can lift weight off your shoulders. Choosing to outsource tasks will benefit your company in the long run. With the help of a 3PL, you'll be able to focus more on getting your product on shelves rather than the logistic components. Customers tend to get frustrated when the product they want is out of stock. To help with this scarcity problem, a 3PL works diligently to procure your goods quickly. Your products will be cared for like they are our own and will be transported as smoothly as possible.
Delivering freight for the manufacturing industry requires strong communication. A 3PL will keep in contact with you throughout your freight's journey to its destination and even after its been delivered. They also maintain strong communication with the carrier to ensure your freight is delivered carefully. Partnering with a 3PL means there is no need for your company to own a warehouse or transport facilities.
They can provide warehousing requirements so that your company doesn't have to invest in your own physical location. When outsourcing your warehousing, it gives you the opportunity to have goods stored closer to your customer, reducing the time and distance it takes to keep them stocked with your products.
2. Business Scalability:
A benefit of using a 3PL provider is the ability to scale space, labor, and transportation according to inventory needs. Businesses with seasonal periods can enjoy stress free transitions between industry ups and downs, having the ability to utilize more space and resources when needed. Using a 3PL provider allows your business to grow into new regions without barriers. Furthermore, as you grow, a 3PL provider can help you scale as they have the resources to seamlessly support growth into new markets.
3PL providers have the resources at hand to make adjustments and improvements to each link in the supply chain. 3PL professionals will ensure your needs are met, by using the fastest, most efficient, and cost effective methods. A 3PL provider has the tools to restructure the supply chain, and use technology that ensures the proper amount of goods arrive when and where you need them. Sophisticated management software can analyze and monitor practices to eliminate inefficiencies and streamline the supply chain. Outsourcing 3PL services will ensure continuous improvements are made to your logistics process.
3. Operating Cost considerations:
Retailers have a different view on shipping costs than manufacturers. Retailers see the cost of shipping as items are sent to them. However, manufacturers focus more on the cost of shipping items out to vendors. A 3PL logistics company assists with bills-of-lading and freight scheduling to reduce the costs of shipping products to your vendors. In addition to reduced shipping costs, by outsourcing to a 3PL logistics partner, you can eliminate payroll, benefit and liability costs that are necessary with in-house staff. There is also no cost for fleet maintenance, insurance or equipment upgrades, which are common expenses found when working with logistics in the manufacturing industry.
4. Maximization of time and capital:
Outsourcing your logistics services can free-up a wealth of money and time for your business. A 3PL company can help eliminate the need to invest in transportation, warehouse space, technology, and staff to execute essential supply chain management processes. 3PL companies can also help minimize costly mistakes while allowing your business to develop a stronger logistical network with higher returns and lower risks. In addition, 3PLs save your company the time and capital required execute essential steps in the supply chain. Billing, auditing, training, staffing, optimizing and improving your supply chain functions is all take care of.
5. Effective customer management :
Manufacturer logistics practices are all about getting products to customers in a timely manner. A third-party logistics provider best works with manufacturers to manage supply chains and move inventory to customers quicker and at less cost. Manufacturers will also have more accountability outsourcing to a 3PL partner as well. A good logistics company will take responsibility for caring for your customers and your products as if they are their own, meeting you own high performance standards.
Logistics for the manufacturing industry may be complicated, but it does not have to be. Partnering with a 3PL provider like Edas Global Supply Chain Limited for all your logistics needs can save money, provide better customer service and reduce the workload for your accounting department. Contact us via info@edasglobalsupplychain.com or call +2347089921886