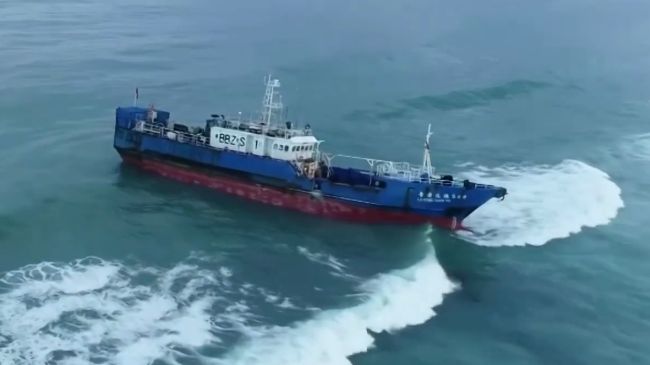 Mauritius is hit by yet another shipwreck oil spill, months after the devastating MV Wakashio oil spill that happened in July, last year.
A Chinese flagged vessel has run aground near Mauritius causing visible dark patches in the drone video. The coast guard and containment lines are cleaning up the oil traces around the Chinese ship Lurong Yuan Yu
Earlier the coastguard spotted traces of oil around the ship. However, those are not heavy oil but lubricants. Both the armed forces and the coastguard have been deployed for the Mauritius Government to tackle the oil spill. The government is more cautious this time after last year's devastating oil spill left the country's oceans in terrible condition.
Lurong Yuan Yu issued distress calls late in the afternoon on Sunday after the vessel got grounded near Port Louis. The ship's captain asked to send up flares and issue distress calls as soon as the ship was stranded near Pointe-aux-Sables.
According to the Mauritian Fisheries Minister, Sudheer Maudhoo no leak or environmental breach was found in the hull of the ship. Efforts are underway to safely remove the fuel from the hold.
"The pumping operation will start tomorrow and will last four to five days. The authorities will also try to refloat the fishing vessel," said Sudheer Maudhoo. The ship was carrying 5 tonnes of lubricants and 130 tonnes of fuel oil.
Although the drone footage revealed dark patches around the ship, a closer look revealed it was lubricants not heavy oil. Many residents have said that they have seen oil washing up into the shore.
While the coast guard and armed forces evaluate the situation and clean up the oil, floating containment lines have been deployed to prevent the oil from spreading further.
The Fisheries Minister said that police have boarded the vessel to investigate the accident. The vessel's documents have been seized and are being scrutinized.
Workers have begun pumping oil out of the ship. They are working day and night to pump out the oil while helicopters are deployed to aid the operation. The ship will be emptied in 5 days and then it will be towed away from the reef.
Reference: aljazeera.com